The company's primary business is the supply of fuel to the government, while ETO's first fuel supply contract was to the Interfet peacekeeping forces.
213 million dollars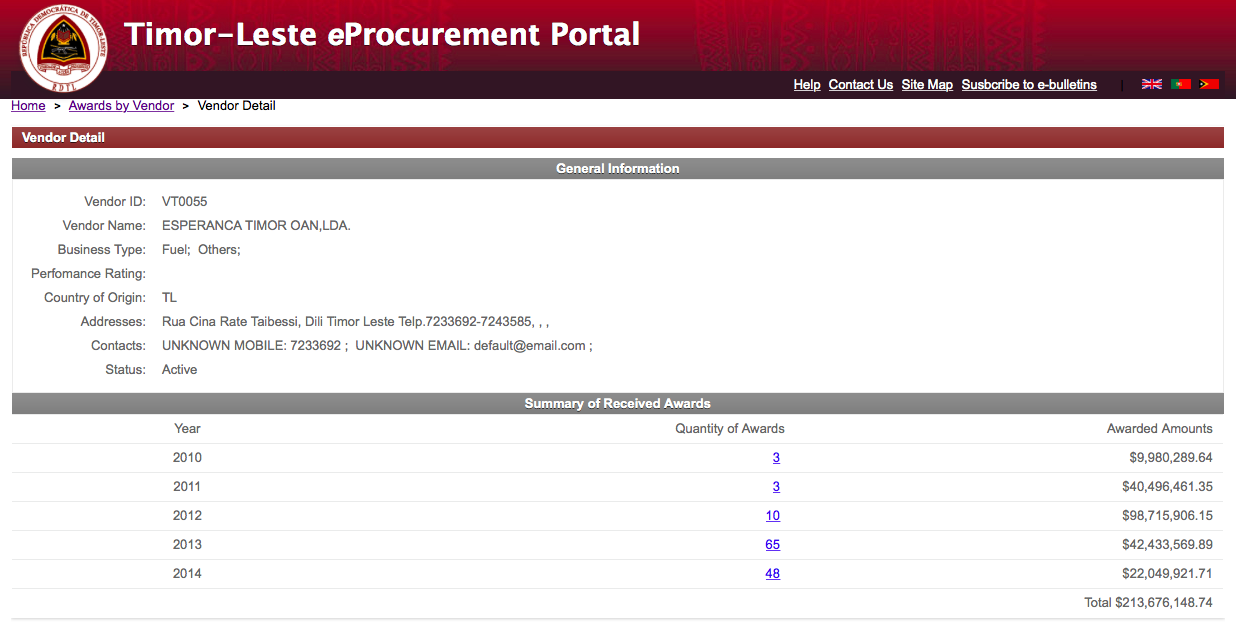 Gusmão, who is still much respected in Timor-Leste as one of the top resistance leaders and became president when the country gained independence in 2002, served twice as prime minister, with his first term from 2007 until 2012, followed by his second term from 2012 until 2015. 
Dos Santos is the son of Gusmão's sister. Government contracts awarded to ETO, helped Dos Santos to become the most successful businessman of the country. 
Between 2010 and 2014 ETO was awarded government fuel supplying contracts valued at a total of $ 213,676,148.74 USD under government Vendor ID: VT0055.
Tempo Timor contacted ETO for an interview, but the company declined to comment.
Here is a summary of the contracts:
In 2010 three fuel supply contracts totalling $ 9,980,289.64 USD
In 2011 three fuel supply contracts totalling $ 40,496,461.35 USD
In 2012 ten fuel supply contracts totalling $ 98,715,906.15 USD
In 2013 sixty-five fuel supply contracts totalling $ 42,433,569.89 USD
In 2014 forty-two fuel supply contracts totalling $ 22,049,921.74 USD
Hera Power Plant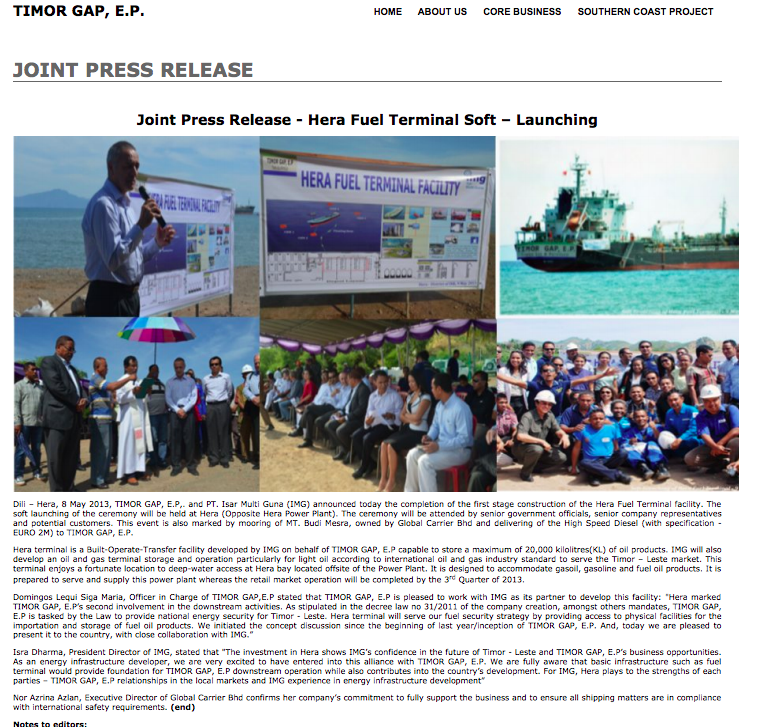 The single largest contract was awarded to ETO on 24 October 2012 for the supply of fuel for the Hera power plant (Contract No. 12009387) by the Ministry of Public Works for the Electricidade De Timor-Leste (EDTL). It valued $50,431,000 USD.
ETO managed to further secure its interests in Hera. In May 2013 the then Secretary of State for Natural Resources, Alfredo Pires, announced that the new state oil company TIMOR GAP and Malaysian company PT. Isar Multi Guna (IMG) would cooperate in the construction of a new Hera Fuel Terminal facility, opposite the Hera Power Plant.  
This was immediately changed by the government for two reasons. There were allegations that the Secretary of State and senior executives in TIMOR GAP had partnered with IMG in exchange for a kickback arrangement. 
Additionally, ETO owner Dos Santos stated that he had already established rights to the land. In late 2013 the then Secretary of State for Land and Property, Jaime Xavier Lopes, ruled in favour of ETO. 
On 29 January 2014 at a lavishly expensive ground-breaking ceremony, led by then prime minister Gusmão and opposition FRETILIN leader Mari Alkatiri, ETO started the construction of the Hera Fuel Depot facility (valued at between $ 15-20 million USD).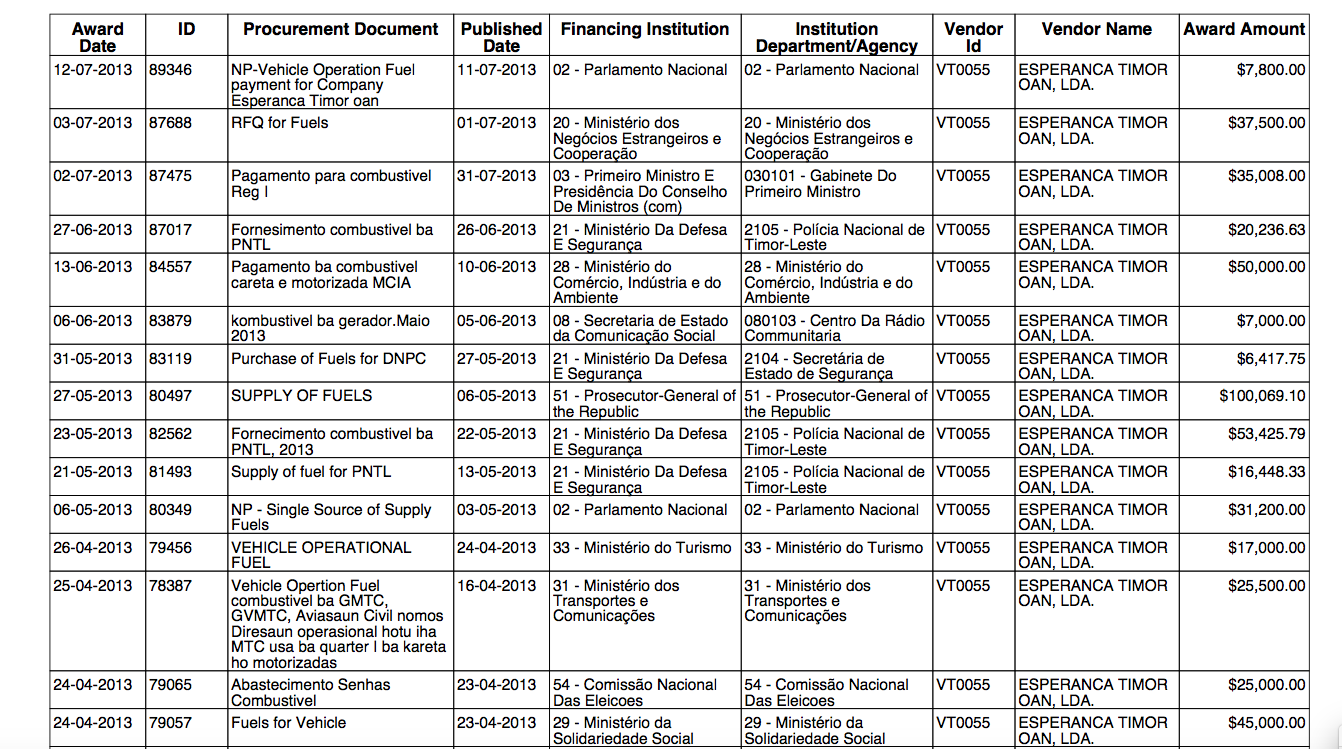 Other business interests
Dos Santos has diversified his business. Currently he has interests in bottled water (GOTA) and retail sale of petrol, according to documents obtained by Tempo Timor from the – now closed and not functioning – procurement portal of the government of Timor-Leste (https://www.eprocurement.gov.tl/).
Dos Santos also went into construction work and is investing in Australia.
He is the owner of G&S Lda (Vendor ID VG0044), which has been awarded many million dollar contracts for construction services. 
For example G&S (which stands for Gusmão&Santos) was awarded a $3,981,832 USD contract in 2010 for the construction of the building for the Ministry of Justice in Dili, as well as a $1,007,578 USD contract to construct a bridge in the southern town of Suai.
Cronies
Commenting on ETO's government contracts, FRETILIN member of parliament, Francisco Miranda Branco, expressed his dissatisfaction with the decade that Gusmao's political party CNRT was in power. 
"The reality is that the government at the time just helped to strengthen their cronies whom now we all know. The reality is that these people are not investing more of their money in Timor Leste. We don't know where they invested the money which they made in Timor Leste. I think this is the legacy from the past government," Francisco Miranda Branco told www.tempotimor.com 
He explained: "Those businessmen who have no family relations with those who had political power in the past government, don't have the capacity to stand on their own feet in this pandemic situation."  
"This is the reality which was created by the then government. They didn't strengthen our private sectors. The only reality we are witnessing is that the government at that time only helped to facilitate a few groups who became their political ally," Branco said, referring to Gusmão's government.(*)