In October 2018, Invech Group signed a Memorandum of Understanding (MoU) with the Malaysian Economic Development Council or Majlis Pembangunan EkonomiMalaysia (MAPEM). The MoU allows Invech to be the Blockchain consultant to MAPEM, whereas MAPEM will assist to consult in economic related matters for Timor Leste - Invech.
Founded in 2012, MAPEM, is one of the key organizations currently engaging and assuming responsibility for economic development and growth of Malaysia. MAPEM is in the business of targeting and creating economic value, business opportunities, job creation, international talent scouting and Development Finance Institution (DFI)/capital investment opportunities that can help to improve the quality of life of the citizens of Malaysia.
MAPEM is committed to achieve the desired results and lay a pivotal role to balance and avoid potential conflicts in economic development, so that successful implementation and rollout of the National Economic Plans in government, industries and throughout the country.
MAPEM is focused to complement and play its role in helping with activities and programs by working with government, industry associations, state governments, industry parks, and setting up active alliances and offices in Middle-east, CIS countries, South America and the African region for continuous expansion of Malaysian industries to the regions.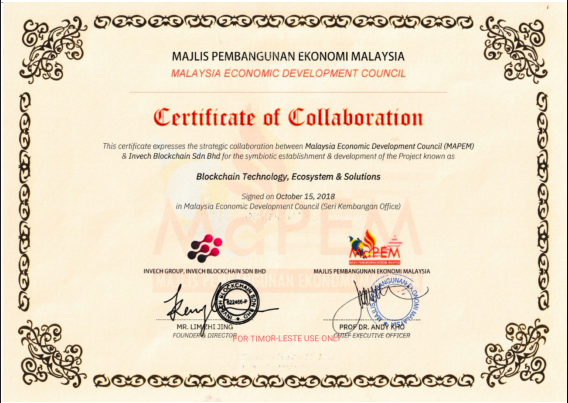 Currently, MAPEM is overseeing 3 major plans.
1. Malaysia Economic Development Corporation (MEDC). APublic-Initiate-Partnership subsidiary under MAPEM, to build the ASEAN Ecosystem Platform starting from Malaysia and connecting all Government Agencies, Industry Players and Entrepreneur Start Up Companies, both Online and Offline. 
2. FOREIGN WORKERS EXCHANGE (FOWEX) which aims to be a holistic platform in enabling relationship building between Foreign Workers, Industry / Employers and the Ministry of Manpower. Assisting in monitoring, coordinating, giving support & assistance to all foreign workers. 
3. ASEAN YOUTH EXCHANGE aims to fulfil Malaysia's aspirations to be a regional centre of higher education excellence, high economic status of having at least USD1,250 income per month for average Malaysian. 
With MAPEM's participation, Invech is able to proceed with the proper guidance on developing the Timor Leste – Invech project which pushes for economic, infrastructural and IT advancement in Timor Leste. Their participation will not onlyboost Invech's development, but also strengthen the national ties between both countries.
Source:
https://mapem.gov.my/