Grupu Eis-UNAMET lubuk ida fila-fali mai Timor-Leste hodi selebra aniversáriu referendu tinan 20. Ida maka David Savage, polísia Austrália ida ne'ebé halao nia knaar iha Maliana iha tinan 1999. David refleta ba nia pasadu, no importánsia hosi ninia vizita ikus. "Vizita ida-ne'e mak di'ak liu entre buat hotu ne'ebé ha'u halo durante tinan barak."
Hakerek hosi Tjitske Lingsma
'Tinan kotuk wainhira ha'u rona kona-ba selebrasaun ida-ne'e, ha'u deside atu mai fali Timor-Leste. Ema hotu hanoin ha'u sei labele mai. Maibé ha'u treinu maka'as durante fulan barak atu ha'u bele mai duni," David Savage koalia wainhira hemu cafe iha nia kadeira-roda iha jardin otél ne'ebe nia hela iha Dili. Molok filafali ba Australia, nia refleta kona-ba nia viajen durante loron 12 iha Timor-Leste hodi komemora no selebra referendu istóriku iha 1999, wainhira nia hanesan polísia sivíl Australianu (CIVPOL) halao misaun ho UNAMET – misaun ONU ne'ebe organiza no asegura votasaun. Ho hamnasa nia hateten "Laiha nasaun ida maka susar atu asesu ba ema sira ne'ebe tur ho kadeira-roda". Eskritóriu, uma no otél barak iha ne'e barak maka ho eskada. Estrada barak maka susar atu asesu ho kadeira-roda "maibe wainhira presiza, kolega sira kous deit hau. Ida ne'e susar oituan tamba hau nia isin mos todan" nia hateten ho komiku.  
Durante ninia vizita, Savage la'o ho grupu eis-CIVPOL na'in-lima  no eis-staf internasionál ONU, jornalista Mark Dodd no diplomata Austrália Sweetman. "Tempu to'o ona atu halo reflesaun depois de tinan rua-nolu." maibe iha balun ne'ebe ladun konvensidu no laran taridu hanesan polisia ida maibe la senti nia iha aviaun laran ona hosi Australia mai Dili. Timor-oan barak ho kontenti simu sira fila-fali. Ida ne'e nudar etapa dahuluk hosi vizita emosional ne'ebe sei nakonu ho enkontru, reuniaun ida ne'ebe bele kura trauma no kanek ne'ebe iha. "Ema simu ami ho diak tebes. Buat hotu lao diak loss no susar atu espresa ho liafuan. Ami ema bain-bain deit maibe ida halo ami senti hanesan estrela no Timor-oan mak halo ami senti hanesan ne'e. Maske buat ne'ebe ami kontribui ki'ik tebes hosi sira nia luta durante tempu naruk, maibe ami hatene katak ida ne'e sira apresia tebes" 
Ta'uk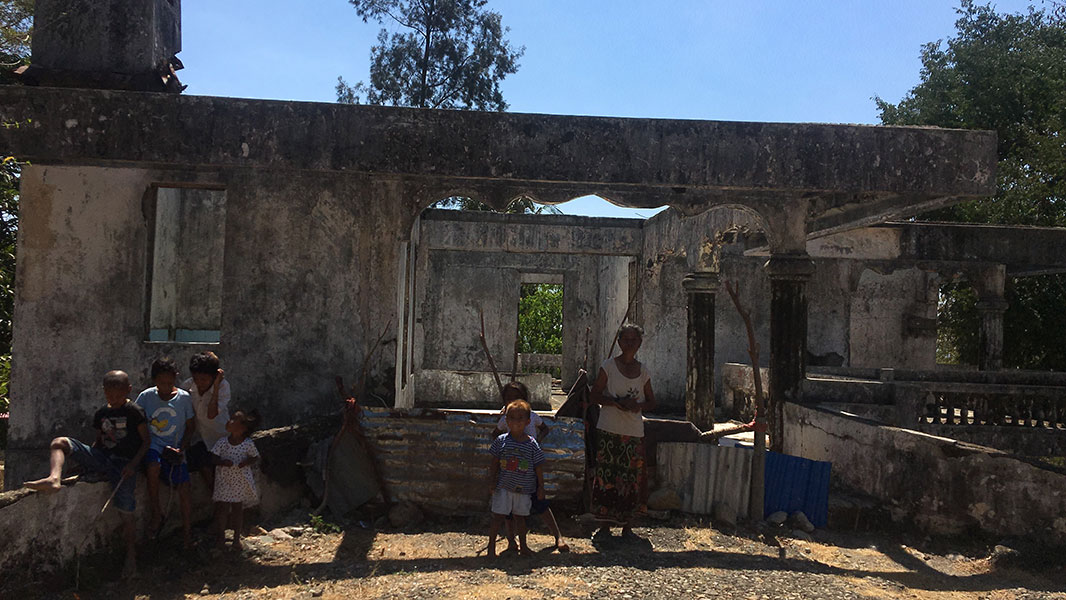 Uma ne'ebe David ho ninia colega sira hela sunu mutuk husi Milisia ho TNI iha 1999 ate agora seida'uk rehabilita)
Iha tinan 1999, CIVPOL sira hetan knaar formál atu fó konsellu ba polísia Indonézia kona-ba seguransa durante preparasaun ba referendu. Savage nia baze mak Maliana, fatin ida besik fronteira ho Indonézia. Foin nia ho kolega sira seluk hosi ONU to'o iha-ne'ebá, sira hetan kedan konfrontasaun ida ne'ebe violentu no intimidasaun hosi forsa seguransa Indonézia no milísia Timór, ne'ebé koko obriga Timor-oan atu la vota ba ukun rasik-an, maibé ba autonomia ho Indonézia ne'ebé okupa Timor-Leste durante tinan 24. "Wainhira ami rona kona-ba atake ida ba suku ida, nu'udar CIVPOL ami tenke bá investiga. Lakleur ami sai hanesan unidade móvel ida-ne'ebé to'o insidente sira hotu no hakerek relatóriu. Ami sai fali ai-tarak ba polísia Indonézia," Savage konta. Nia ho ninia ekipa sente laran-kanek duni bainhira haree povu Timór nia terus, no sira mós sente laseguru. "Ami Barak maka antes ne'e halao ona misaun ba nasaun sira seluk maibe ami nunka sente ta'uk hanesan ami ta'uk durante UNAMET. Ami labele lori kilat. La iha sistema apoiu ida sekarik buat ruma akontese ba ami, hanesan iha misaun sira seluk. Laiha ajuda médiku. Laiha forsa ida atu garante dame. Ami hetan ameasa, no ema tiru hasoru ami. Ami iha dokumentu konfidensiál sira-ne'ebé hakerek katak militár Indonézia tuir loloos hakarak hametin intimidasaun no hata'uk misaun ONU nian, ne'ebé podia inklui mós oho staf internasionál ONU balu, karik presiza. Ami moris iha ta'uk nia laran, no sente vulnerável tebetebes," Savage relembra fila-fali.  Savage rasik hakerek kona-ba ninia esperiénsia durante UNAMET iha livru naran "Dansa ho Diabu" (Dancing with the Devil), ne'ebé depois sai filme ida ho parte rua ba televizaun, ho títulu "Hatán ho Ahi" (Answered by Fire).