Timor Leste has been one of the more encouraging media spots in the region over the past decade. A fairly lively media environment has grown since independence in 1999. A small nation of 1.2 million people it now hosts five local dailies, four weeklies, six TV stations (five private, one government) and about 20 local radio stations throughout the country. However extreme poverty, dangers in reporting corruption issues and partisan political violence in the past, still cast a shadow over the journalists recently surveyed.
The IFJ – SEAJU survey canvassed 58 working journalists in Timor Leste. The results are relatively positive. A total
 of 50 per cent believe the situation for journalists has improved somewhat or significantly in the past year. Seventy per cent believe it is static or has improved. But disturbingly, the fear
of threats, physical violence and legal persecution remains high for journalists in Timor Leste.
Faith in government oversight remain low and the task of exposing corruption over the past decade has fallen largely 
to journalists. During the 2018 election campaign, opponents of Xanana Gusmão, prime minister from 2007 to 2015, highlighted the rampant cronyism that dominated the National Congress for Timorese Reconstruction (CNRT) party's decade in power. One example is Gusmão's nephew, Nilton Gusmão, who held lucrative government contracts and today is said to be one of the country's wealthiest men. It takes a certain kind of bravery to report on such matters in a small city.
One journalist said to the IFJ: "It
can be a dangerously small place.
In the morning you might accuse a businessman of corruptly receiving money from a relative in politics. It could destroy him. In the afternoon you'll join him in the same supermarket queue . . . It is difficult to do strong reporting on a high politician. I am aware of that. I have to manage myself carefully. I get used to leaving Dili after a story".
While there were only two reports
of physical attacks made on journalists last year in the survey, a quarter of
those surveyed noted being physically threatened for their reporting in the same period and a third of them actively fear physical attacks on themselves or their families.
With billions of dollars of oil revenue flowing through government hands the opportunities for corruption are high and the stakes for journalists reporting on such expenditure even higher. Those risks haven't deterred some of Timor Leste's most notable reporters. For those reporters, death threats, threats to harm or threats to sue are not uncommon.
On a positive note, the vast majority of journalists surveyed (89 per cent)
 felt there was not a culture of impunity for physical or character attacks upon journalists in Timor Leste. Journalists appear to have high confidence in the courts and the judicial system. Only 9 per cent consider that the courts do not treat attacks upon journalists with due seriousness. Confidence in police and political leaders on the same question however is particularly low. Seventy-two per cent of journalists cite police and politicians as the dominant negative influence upon impunity for attacks against reporters.
Low Profits, Low Wages
The biggest threat journalists noted in terms of the creation of a strong media in Timor Leste was chronically low wages. Out of 12 listed threats, almost half nominated poor wages and working conditions as the single biggest threat to their craft.
Quite aside from the difficulty of surviving on low wages, the broader impact is seen in a very high churn rate for journalists in the local media environment. There is a distinct absence of mid-career reporters in Timor Leste, which evidences the attrition from the industry. Wages
are so poor that practitioners are easily lured into public relations, government jobs or advisory media positions with politicians. With a low profit base, private media has extreme difficulty in retaining good staff.
Raimundos Oki, freelance journalist said: "Most journalists are moving
to the state media if they can or
more likely they move into NGO's or government. Most journalists I
know become media officers with the government or a minister. I understand. They get a guaranteed wage, they get a pension. But it is bleeding us."
Fear of Attack
The capital Dili is the seat of political power, the economic base for a business class largely reliant upon government development projects and, of course, the home for most of the media. With a population of just 222,000, it can be an uneasy and overly intimate mix.
The economy is highly reliant upon national oil revenue and its subsequent expenditure though private contractors remains the subject of intense speculation, with much of the country's oil wealth in recent years poured into megaprojects at the expense of much- needed public services including running water, schools and health clinics. UN figures released just prior to the election showed almost half the population lives below the extreme poverty line.
Under Paid, Under Pressure

On the surface, the population is well served with multiple media outlets. But most of these organisations are barely viable financially. All of them, public or private, are highly reliant on government funding.
Veteran reporter, Jose Belo, believes that appointments to state media are highly politicized and that private media is equally vulnerable to government influence. He estimates that the vast majority of advertising income across all media is sourced from the government. He also estimates that government departments account for more than
half of all newspaper subscriptions.
The Government funding is welcomed by many as providing assistance to
the industry but Belo notes, "If you do
a good story here you go broke. The ministers and their departments will hate you and the money will stop".
Belo was the editor of newspaper Tempo Semanal, which was broadly viewed as the main source of investigative journalism in Timor Leste. Tempo Semanal folded two years ago and in the view of Raimundos Oki investigative journalism has halved since its demise.
"Investigative journalism is the most important type of journalism and we have gone rapidly backwards since that paper closed," he said. "Young journalists want to do it. We now train for it, we talk about it, we aspire to it. The energy is there but the outlets are few."
Belo recently relaunched himself online with his website tempotimor.
com but is struggling to bring on the journalists who want to work with him.
"There are great young journalists, educated and who want to be trained on the job. There are good people in private media. There are strong people. But life is not easy here. We surrender to money or we suffer."
Several journalists note the relative poverty of journalists makes them vulnerable to receiving payments from businesspeople and politicians for favourable coverage. While not seen as an endemic problem the behaviour is widely suspected.
A more benign example of financial influence has been through the payment of accommodation fees and "per diems" for journalists travelling with official parties throughout the countryside. The IFJ affiliate, the Timor-Leste Press Union (TLPU) views the practice as potentially compromising to political and business reporting. They have undertaken to end all such arrangements this year and have reached agreements with state and private media to cover related costs for staff journalists.
New Laws, Regulators, Threats

A new Media law was implemented
in Timor Leste in 2015 in the face of vocal opposition from journalists and notable concern by international press groups. The most controversial element of the law were criminal defamation provisions. These were removed to ensure passage through parliament.
But several concerning elements were enacted in the new media law, including a scheme to issue government licences to enable the practice of journalism in Timor Leste. Australian barrister and
IFJ observer for Timor Leste, Jim Nolan, notes that the new laws have wisely been implemented gently.
"It is absurd to think that any society that aspires to free speech can achieve it by licensing journalists, including online commentators," Nolan said. "In the reverse, journalists can be deregistered by a government-appointed body and prosecuted if they continue to write and publish. In the wrong hands this could be extremely draconian."
The Media Law established a Press Council to regulate and oversee the behaviour of journalists. Against
earlier expectations, the Press Council appears to have been well accepted by journalists. Although all are aware of its punitive powers, very few surveyed criticised its current operation. The council has taken on a strong general advocacy role for journalists and has been effective in mediating complaints about the media that may otherwise end up in the courts. Nolan notes, "the Press Council seems to be operating quite well with individuals well- disposed to the interests of journalists. I see them as a mixed blessing. There are good people there but as a body they are vulnerable to abuse."
Anti Union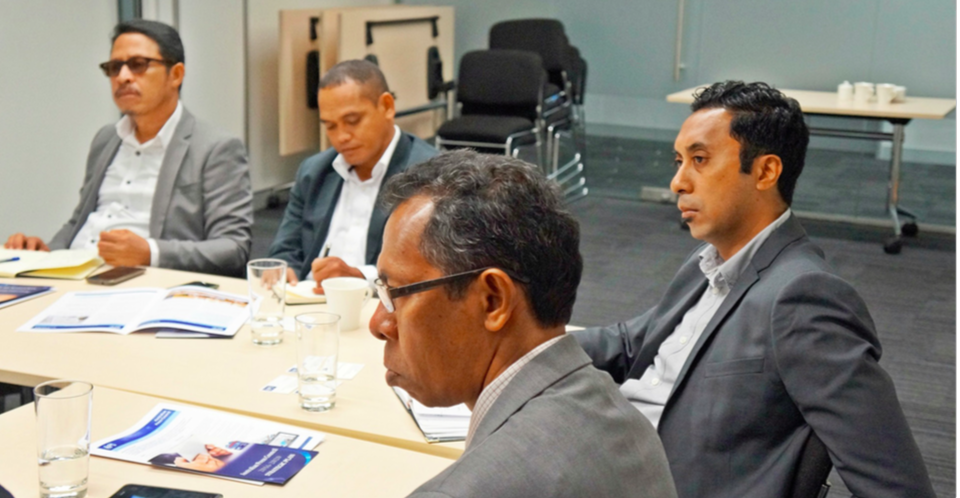 One of the reasons for the Press Council's popularity among journalists this year was the actions and subsequent sacking of Press Council member, Francisco Belo Da Costa. Da Costa was the editor-in- chief of Grupo Media Nacional (GMN), which spans both print and broadcast, when he was reputedly sacked for his activities in seeking to improve staff conditions on behalf of the Press Council and the journalist union TLPU.
"He was putting the Press Council and union position to GMN that journalists should be paid overtime," said Raimundos Oki. "He is a very senior guy and was promptly sacked. If they can sack a guy like him, they can sack anybody. Younger journalists know that well. They are under a lot of pressure to not be involved in a union. They can't speak publicly. Union membership
is high but they can't be seen to be involved in campaigns. It is a fact."
Jose Belo concurs that the sacking of Francisco Belo Da Costa was one of the most negative events for journalism in Timor Leste in the past year. "He was a good journalist and good editor. I don't think it was just about his work with the Press Council. He was doing stories about politicians getting government contracts. He was doing stories about businessmen that the GMN guys were affiliated with. That is what finishes journalists here."
The Crime of Journalism
Although Criminal Defamation was struck out of the 2015 Media Law, another law has been applied to effectively bring it back, threatening journalists with criminal convictions and imprisonment.
A little known provision of the old Portuguese criminal code, Section 285 Slanderous Denunciation, seems to have come back into vogue. Jim Nolan calls
it a "ghost of a colonial Portuguese law that just hung around and almost no-one
noticed it." It is a ghost that can put a journalist in prison for up to three years.
It was applied in 2013 against journalists Oscar Maria Salsinha and Raimundos Oki whose newspapers both accused a public official of accepting a bribe. They were both acquitted.
Raimundos Oki was charged with the offence again in 2017, together with his editor, Lourenco Vicente, for an article suggesting the prime minister improperly awarded a supply contract. Prosecutors were seeking 12 months imprisonment. Again the journalists were acquitted, but the impact of these criminal cases has had a chilling effect on journalists.
"I was grateful to the court but the law is still a threat to every journalist in the country," said Oki. "It hangs over every word we write." •
Timor Laws Still a Concern
JIM NOLAN
In 2017, two Timor Leste journalists faced criminal charges for just doing their jobs. 
When he was prime minister, Rui Maria de Araujo's administration brought charges of "slanderous denunciation" against Timor Post journalist
Raimundos Oki and a former editor Lourenco Martins over an article published on November 10, 2015.
The article made accusations of possible "bid rigging" in relation to a government computer contract.
If convicted, the prosecutors were seeking a year's jail for Oki and placing Martins on probation.
Timor Leste abolished criminal defamation after rewriting its laws following independence in May, 2002. But the duo were charged under the obscure s285 provision of Timor Leste's penal code - that of "defamatory false information" which survived the rewrite.
By instituting criminal proceedings, Timor Leste prosecutors sidestepped the country's 2014 Press Law, which favours mediation of press complaints. They also ignored the fact that the Timor Post had published an immediate correction of the one item in the story which contained an acknowledged mistake, the misspelling of the company which was named.
The charges and trial provoked outrage among the small Timor Leste journalist community, and, in an unprecedented move, on May 29, 2017, there was an industry-wide demonstration. All major publications in Dili carried statements from their editors denouncing the charges and the prospect of convictions, and a jail term for Oki.
It was the first time Timor Leste journalists had taken to the streets of Dili to demonstrate their support for press freedom in solidarity with their colleagues. They had no doubt that Oki had come in for special attention because he was one of a tiny group of journalists doing investigative work.
In court, the prosecutors produced little else than the text of Oki's article. However, the provision of the 285 penal code the pair were charged under requires proof of publication "with the intent of having criminal proceedings initiated against the person". No evidence of this intent was placed before the court.
The prosecutors' approach carried the implication
that any exercise of investigative journalism directed to exposing public malfeasance would risk investigation and charges under the penal code.
This is antithetical to the expression of freedom of the press embodied in articles 8 and 9 of the Press Law, which establishes the right for journalists not to be subjected to any interference that threatens their independence and objectivity, and, the right to freedom of expression and freedom from harassment.
After the trial proceeded in fits and starts throughout early 2017, the decision was handed down in the Dili District Court on the afternoon of June 1, 2017.
As the time of the judgment approached, the small courtroom in central Dili filled to overflowing. In addition to overseas observers in attendance, in the front row of the public gallery was former first lady, and well-known human rights advocate, Isabel da Costa Ferreira who is the spouse of the current Prime Minister Tuar Matan Ruak.
When the verdict dismissing the charges was announced, the public gallery burst into spontaneous applause.
Oki said he was relieved to be cleared and said the case would be seen as a bellwether for press freedom in Asia's youngest nation. "I am happy to hear the court's ruling that cleared me, I hope this can serve as a lesson for me and other journalists to not be afraid but still careful in writing a sensitive article," he said.
The following morning, Oki and representatives from the IFJ attended the offices of the Press Council of Timor Leste. The president, Gil Guterres, made it clear that the Press Council expected that Oki's case would be the last that reached the courts. He stressed that the mechanism for handling complaints against the press was now contained in the Press Law and that all such complaints should be referred to the council in the future. The council also had talks with the Prosecutor-General's Office and the police to this end.
The decision was significant for a variety of reasons.
It demonstrated that there can be no substitute for a rigorous application of the law as it is written as a starting point to preserve and enhance the rule of law. The courage and professionalism of the young judge who heard the case cannot be overstated.
The acquittal is not the end of the matter, however. While such laws are on the books, they represent a source of permanent temptation for politicians and ambitious prosecutors to seek "pay back" against political opponents. It's not just the law which represents a potential source of intrusion upon the press, but the chilling effect the prospect of prosecution has on the exercising of press freedom.
While the decision is cause for celebration, it provides a very real illustration of the threats to a free press and the state of the law affecting freedom of expression in Timor Leste.